Discover the revolutionary power of dental implants.
Missing teeth are more than an aesthetic nuisance — they contribute to long-term dental health issues. Gaps in your smile leave room for teeth to shift out of alignment and for the jawbone to deteriorate. While many prosthetic tooth options resolve cosmetic concerns, they do not address the root cause of bone loss. Implants are the only dental restorations that replace both the root and the crown of a missing tooth for a long-term and life-changing smile solution.
---
Experience, Expertise and Exceptional Care
Our board-certified implant specialist has it all.
Dr. Andy Q. V. Le is one of the best implant specialists available, with over 20 years of experience in oral surgery and over 1000 implants placed. From single implant restorations to full-mouth reconstructions, Dr. Le uses the most advanced technology available in the dental field, including in-office 3D printing, IV sedation and same-day delivery, to ensure every patient leaves confident they have received the highest quality care possible.
Dr. Le is a diplomate of the American Board of Oral Implantology and Implant Dentistry (ABOI/ID), designating him as an expert of the highest competency in the field of implant dentistry. He has also been honored as a fellow of the International Congress of Oral Implantologists and has completed a Master of Oral Implantology at the University of Nevada, Las Vegas School of Dental Medicine. As a lecturer for various dental implant courses and an active member of the American Dental Association®, the California Dental Association, the California Implant Institute and the Alameda County Dental Society, Dr. Le has been recognized as a "Bay Area Top Dentist" by Doctors Improving Healthcare Inc.
---
The Gold Standard of Dental Restoration
Do missing teeth have you struggling to speak, bite, chew or even confidently smile? Whenever you exert force on your jawbone, such as biting or chewing, the roots of your teeth send signals to generate bone tissue in that area. When you lose a tooth, the jaw no longer receives those signals, resulting in bone loss that can cause facial distortion or collapse.
To correct and prevent this, dental implants replace the entire tooth. A biocompatible implant post is embedded into the jaw where it integrates with the surrounding bone tissue to stimulate bone growth and save the jawbone. A custom-designed dental restoration is securely fitted over the implant post for beautiful, functional, durable and natural-looking results that can last a lifetime when cared for properly.
---
Which Implant Restoration Is Right for You?
When you come to Le Chabot Dental for your initial implant consultation, Dr. Andy Le will begin by performing a thorough examination of your smile and discussing your aesthetic goals and oral health needs. With these in mind, our implant specialist will help you decide which of our implant restoration options is best for you. Regardless of your choice, you can expect a unique, lifelike restoration designed to perfectly fit your smile, improving your ability to eat and speak comfortably and reviving your confidence in your smile.
Single Implant
Single dental implants are designed to replace a single missing tooth. After implant placement, our implant specialist will design a custom dental crown to secure over the implant post and blend seamlessly into your natural smile.
Learn More
Implant-Supported Bridge
Implant-supported bridges are used to replace one or more missing teeth in a row. Secured in place with two dental implants on either end of the custom-made prosthetic, they provide a durable and long-lasting implant solution.
Learn More
Implant-Supported Denture
An implant-supported denture replaces multiple missing teeth or an entire missing dental arch. These prosthetics, whether partial or complete, are an exceptional choice for patients looking for something more secure and reliable than traditional dentures. In some cases, a pre-existing denture can be retrofitted and secured into place with implants.
Learn More
Full-Mouth Dental Implants
Also known as All-on-X implants, full-mouth dental implants are recommended to replace entire arches of missing teeth. These permanent restorations can last for decades while fully restoring all of your oral functions. No food is off limits with full-mouth implants!
Learn More
Zygomatic Implants
Zygomatic implants are used to replace upper teeth when there has been significant bone loss, either due to resorption or severe periodontal disease. Secured into the cheekbone instead of the maxillary bone, these restorations eliminate the need for bone grafting.
Learn More
---
Cutting-Edge Implant Technology
The high standards we set for our implant process begin long before the first implant is placed — we used the latest in dental technology from your initial consultation to your last follow-up appointment.
CBCT Imaging
At your consultation, Dr. Le will use cone beam technology to create 3D images of your entire mouth. The accuracy of these models allows our team to create stunning dental restorations that perfectly fit your smile.
Learn More
InstaRisa Facial Scanner
The InstaRisa digital scanner captures a full 3D model of your face as well as your oral structures, so our implant specialist can show you a preview of how your full-arch treatment will affect your bite and face shape before beginning the implant process.
Learn More
Bone Grafting
Your past dental history shouldn't prevent future dental health. If you have been told your jaw is not strong enough to support implants, our implant specialist can offer bone grafting to increase bone density and prepare you for your implant placement.
Learn More
Sinus Lifts
Like bone grafting, sinus lifts, also known as sinus augmentations, improve the strength and supporting bone tissue in your upper jaw. By combining this procedure with zygomatic implants, we can ensure every patient has access to implant restorations.
Learn More
IV Sedation
Unlike many dental offices, our team offers conscious IV sedation as well as nitrous oxide to ensure your implant placement is completely comfortable while still allowing you to remain awake and responsive throughout your visit.
Learn More
Platelet-Rich Fibrin
Platelet-rich fibrin therapy is a cutting-edge technology that harnesses the body's natural healing properties to make your post-surgery recovery period shorter and more comfortable as well as protecting the site from infection.
Learn More
3D Printing
With our in-house 3D printer, we can create high-quality implant restorations without making you wait. By creating oral appliances in our office, our implant specialist can apply their artistic eye and high standards to every step of the implant process.
Learn More
---
Stunning Results for a Lifetime of Smiles
No matter how many teeth you are replacing, dental implants offer beautiful results that look, feel and function as naturally as your original teeth. Made from stain-resistant material, your dental restorations offer a dramatic boost to your confidence for years to come, and when cared for properly, your dental implants can last for the rest of your life.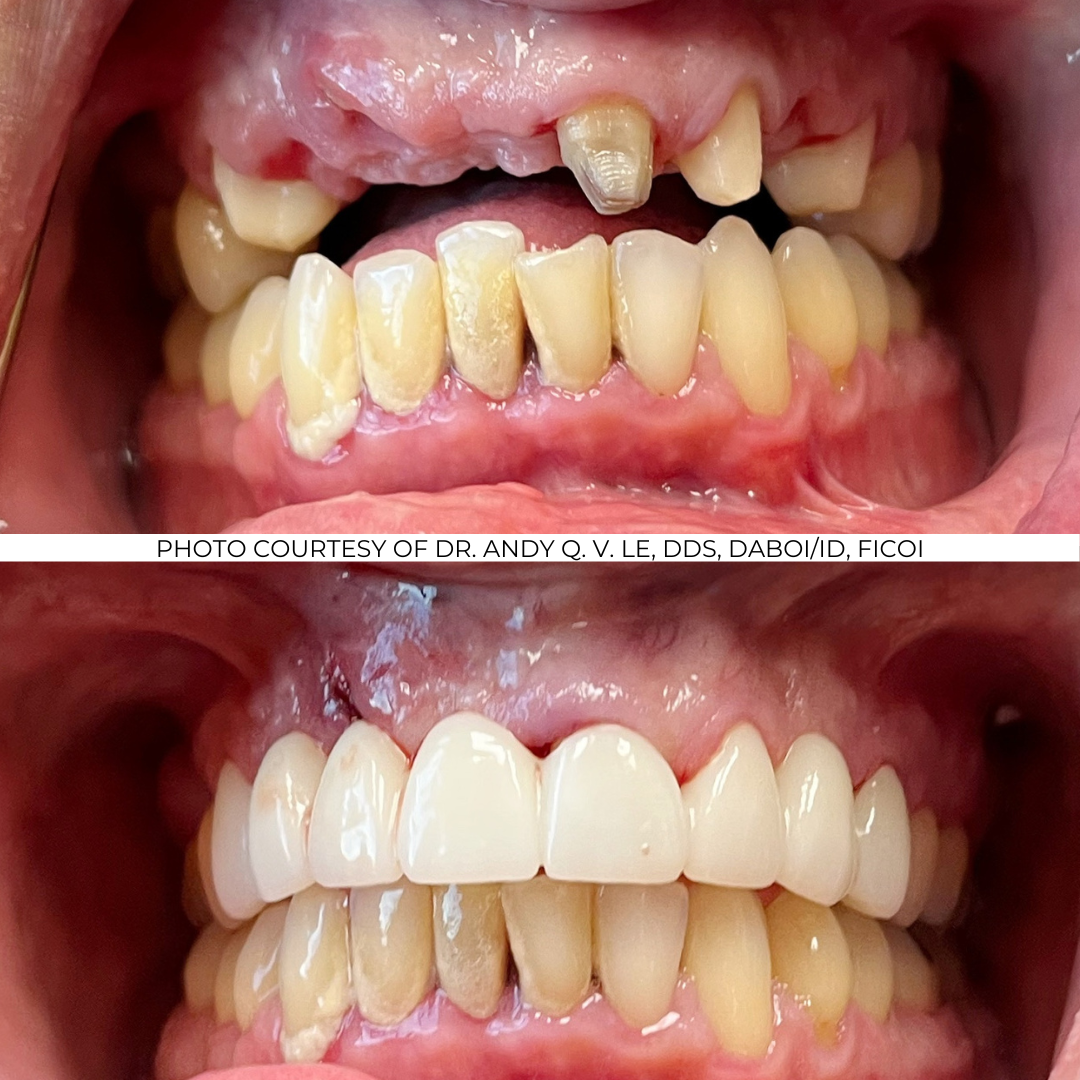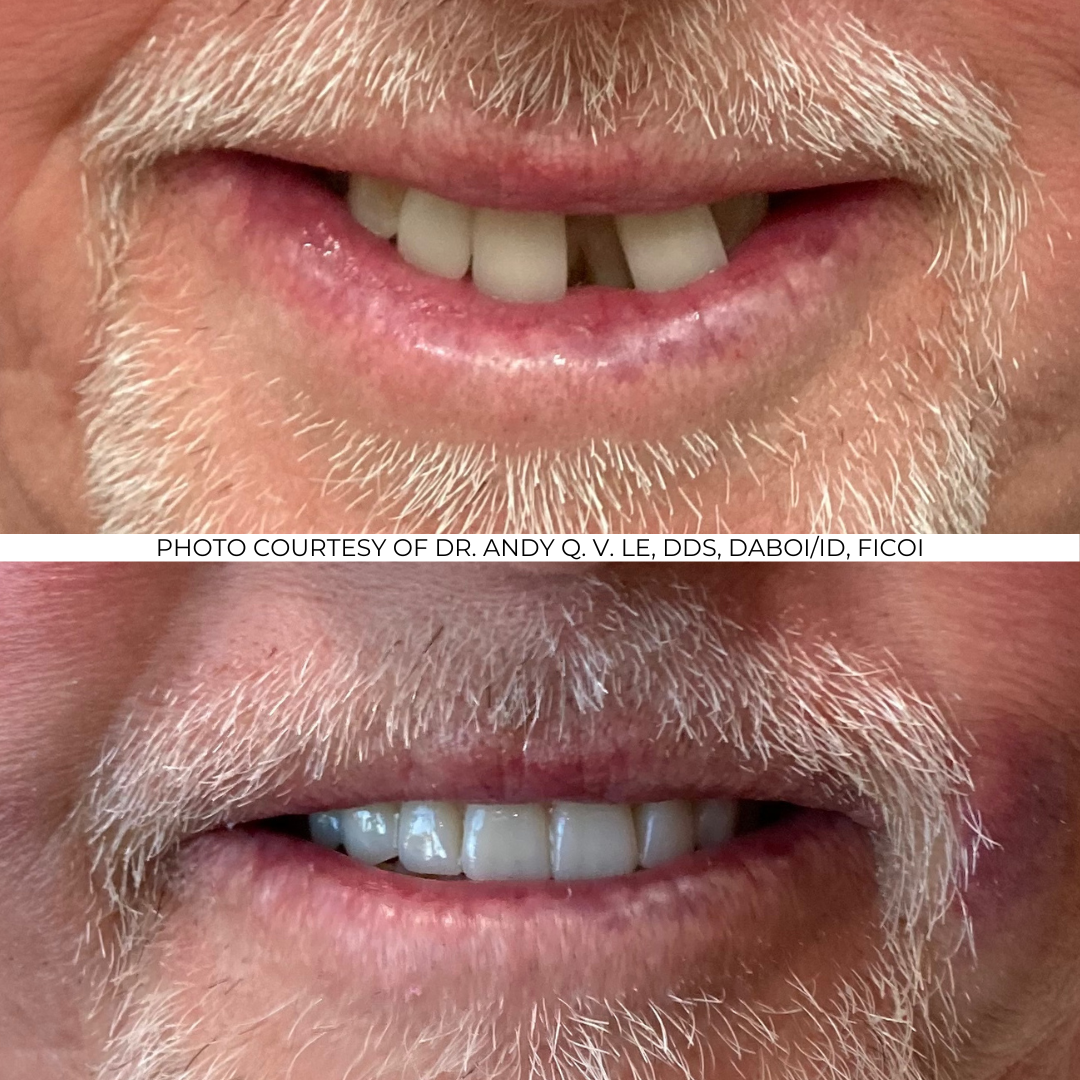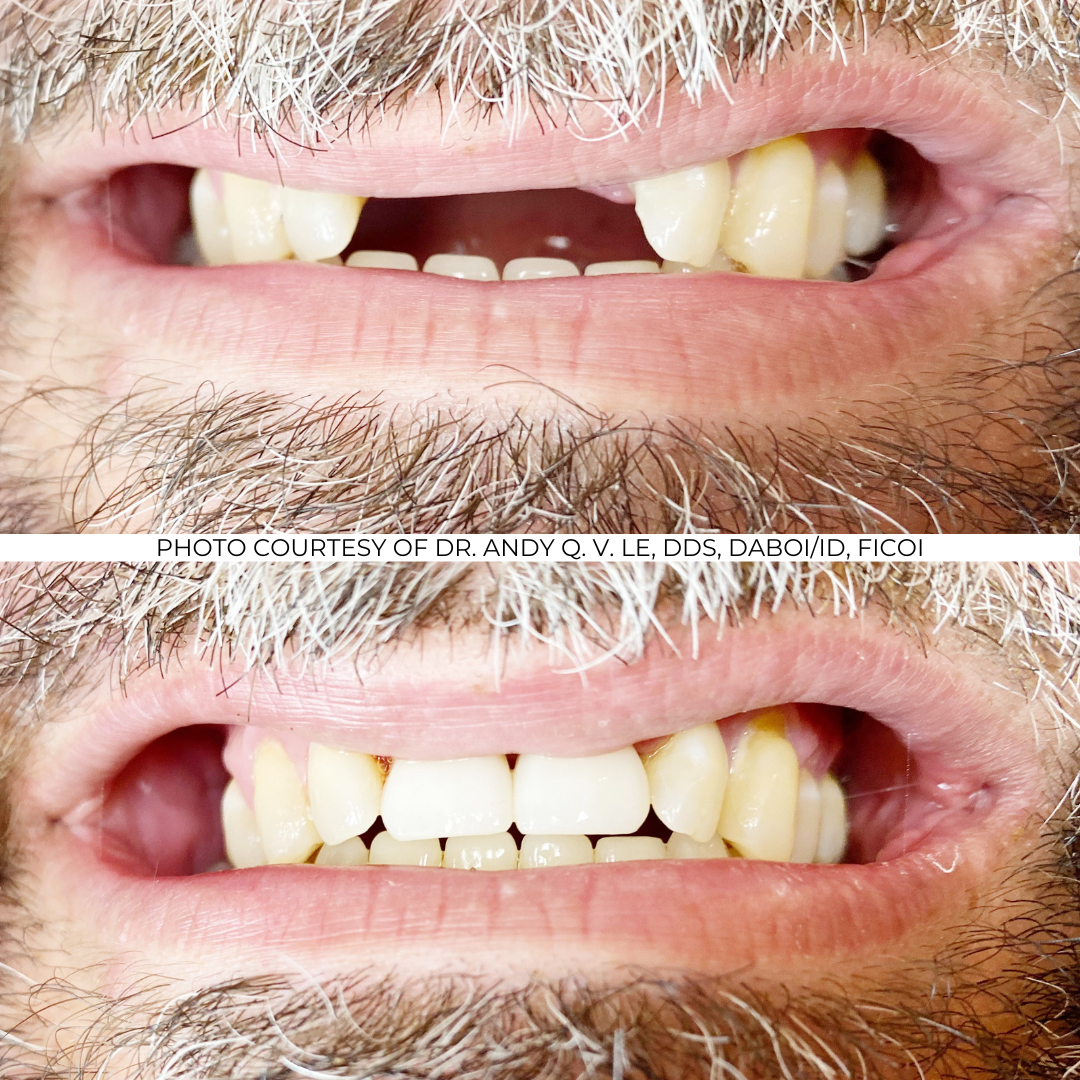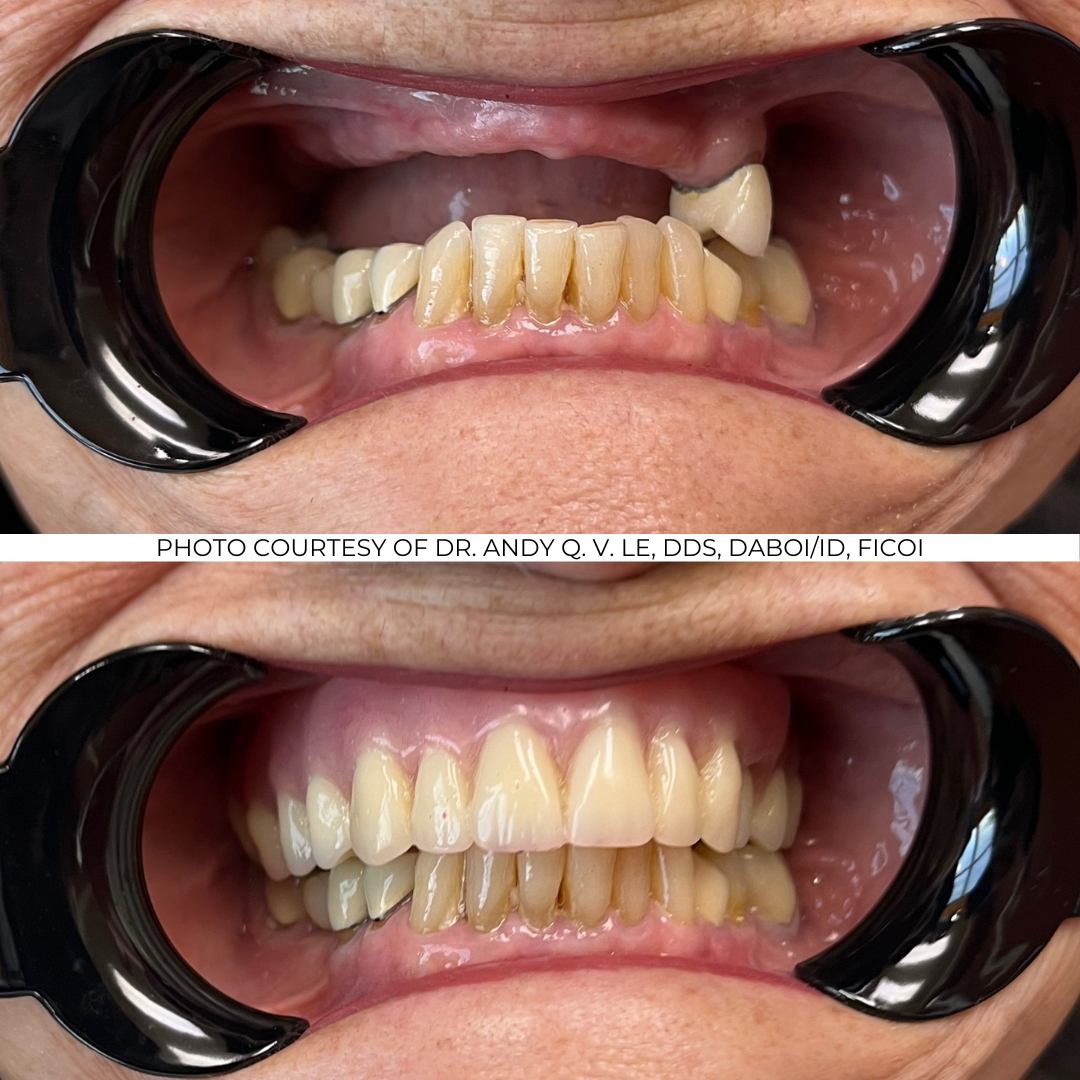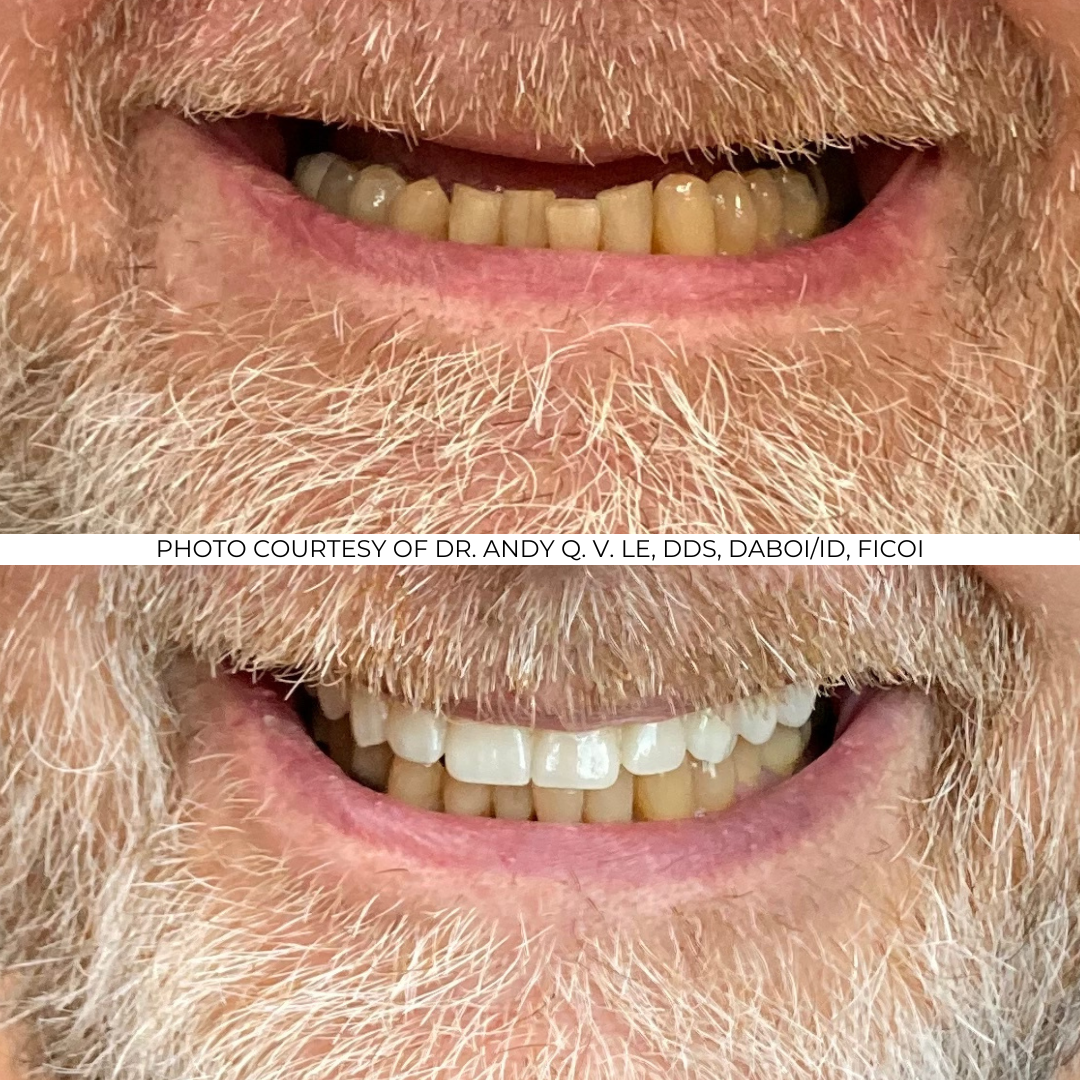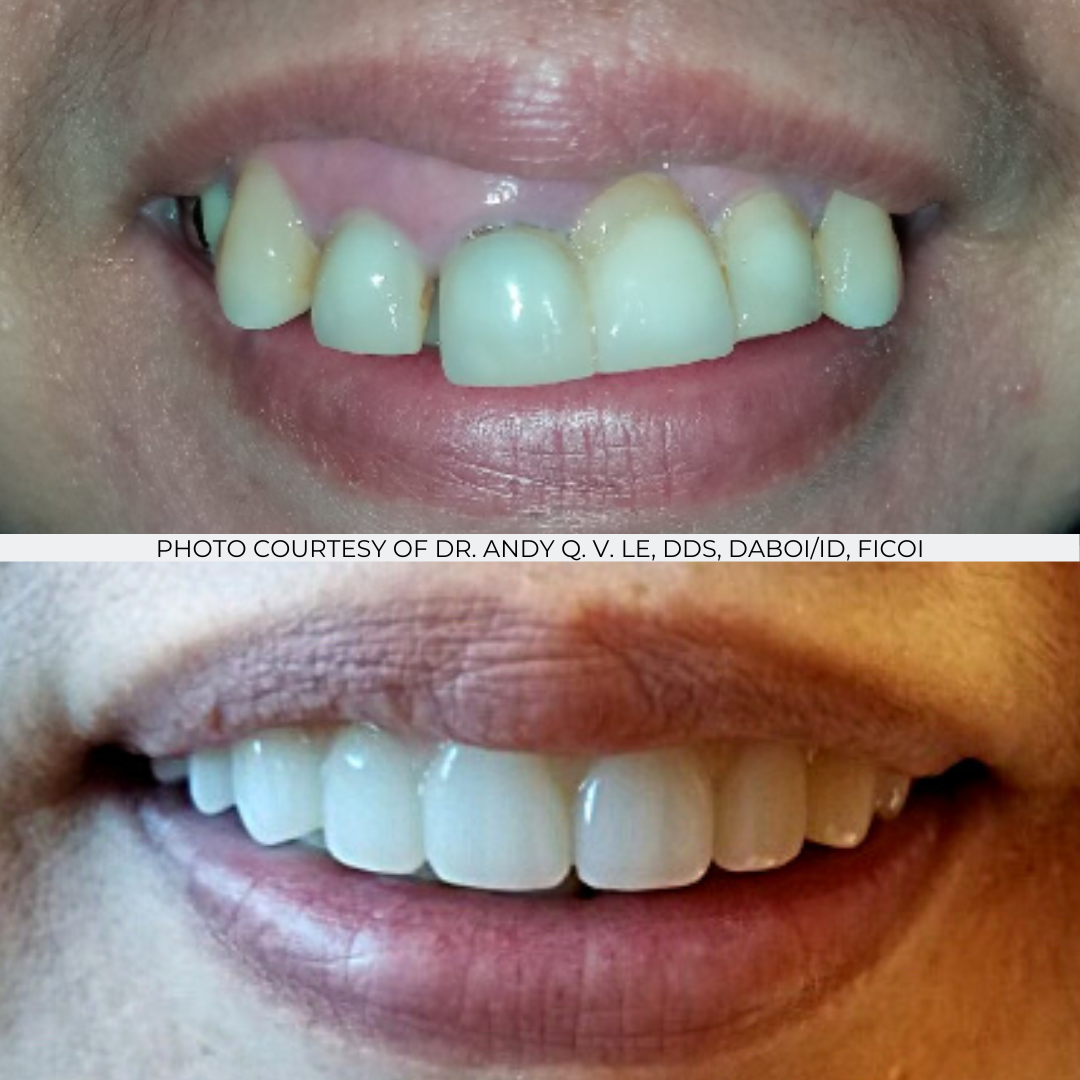 ---
See What Our Implant Patients Are Saying
Dr. Le and his assistants are so caring and efficient with the care I have received from them personally. I have been a patient at Le Chabot Dental for many years. Dr. Le has just completed two implants for me and I'm very happy with the outcome. I happily recommend Dr. Le and his staff. – Glenda D.
I was really nervous about finding a new dentist after my family dentist retired. Le Chabot staff are super friendly and go out of their way to make sure that you are comfortable from the moment you enter the office. The office is super clean and very modern. Dr. Le is warm, funny and thorough.
I am a coward when it comes to pain and was so afraid of getting an implant. I don't remember it hurting during the extraction of my tooth and I was amazed at how great my mouth felt after the extraction. Dr. Le used the Platelet Rich Plasma technique to promote healing and bone regeneration. This is noteworthy because it is a best practice that you might not have the opportunity to experience at most dental offices. Today was my one week checkup to look at the area where the implant will go. Everything looked great and I left with a big smile on my face to head back to SF. I would give the team at Le Chabot Dental 10 stars! – Mary Ann J.
Andy is the best! I travel all the way from Las Vegas to see him! I was in a life altering car accident on January 26, 2019 which caused me to lose my front teeth. Andy did the restoration process of the dental implants. He also performed some work to even out my bottom teeth. I got my teeth cleaned and whitened as well for a really good deal because Insurance doesn't pay for cosmetic work and the accident was my fault. Here is the final outcome of my dental implants ! – Tiara C.
Dr. Lee, Autumn and the rest of the staff made me calm and assured that mr dental implant would be painless and comfortable. Before Dr Le sedated me he made sure I felt comfortable and answered my questions. The whole process was painless and being partially sedated it was like being in a dream. I was a little dopey after the procedure and I'm glad my wife came to pick me up and Dr Le helped escort me to her car. I f I need dental surgery in the future Dr Le is my man. – James V.
I was so terrified to find out my trusty bridge work had to be replaced and went to see Dr. Alicia and Dr. Andy Le. I was advised to have dental implant which terrified me even more! It turned out to be the most supported and professional dental treatment which has exceeded my expectations. Dr. Le is strong, professional,very kind and empathetic and Dr. Alicia is very compassionate, thorough, gentle and very kind as well. I am writing this review on the evening after my bone graft and implant procedure and already, I feel so happy I underwent this treatment. I love the whole staff, Anna, Lupe, Maggie, and everyone at the Clinic. So deeply grateful! Keep up the great service Thanks so much to my dear husband who referred me and is Dr. Le's happy patient as well. – Evelyn V.
The most modern dental office I have visited.
The 3d image of my mouth was very detailed.
The doctor used acupuncture to help with my gagging reflex.
He also used a very cutting edge white blood cell draw to speed up healing for my implant.
I felt very comfortable there.
Very friendly staff.
Top notch visit.
Andy is also a very strong surfer. – Tony P.
I am happy to give Le Chabot a five star rating according to my experience. I was seeking a dentist to give me implants to replace my upper teeth and Andy came in at a very reasonable price and worked out a payment plan that I could afford without tacking on an interest fee. I found the whole staff to be considerate in addressing my concerns over a six month period while we went through the process and now I am happy with my new teeth. I was always seen in a timely fashion and Dr. Le explained the procedures to me as we went and I am delighted with the results. Thank you Le Chabot! – Scottydee50 D.
---
Financing Your Forever Smile
We offer 0%-interest financing for our implant services so everyone can receive the care they need at an affordable price. Fill out the questionnaire below to see if you are a candidate for implant dentistry or come see us in person to discuss your specific dental needs and how Dr. Andy Le can help you.
---
Are Dental Implants for You?
---
Frequently Asked Implant Questions
➤
What Are All-on-4 Implants?

All-on-4 is an alternative dental implant solution that is ideal for patients with low bone density or volume. It is also an excellent option for patients with dentures who have experienced complications such as poor bite function, increased risk of gum disease and frequent replacement.
Whereas single implants can require multiple surgeries, All-on-4 can be completed in one visit without bone grafting or sinus augmentation. It also has minimal recovery time and can have lower overall costs compared to conventional implant procedures.
➤
What Are Mini Implants?

These small implants are often the best option for patients with smaller teeth and incisors. Mini dental implants can also be ideal for front teeth, premolars or teeth situated in narrow areas.
With mini implants, you can expect the procedure and recovery time to be quicker than traditional dental implants because they are placed into the bone without affecting any sensory nerves.
➤
Who Can Get Dental Implants?

Patients who have not suffered extensive bone loss and retain healthy gums are able to receive a dental implant. If you have suffered bone loss, your jaw may not be strong enough to support a dental implant post, but Dr. Andy Le can offer a number of solutions to this issue, such preparing for your implant placement with a bone graft or sinus lift, or using zygomatic implants in the upper arch.
We invite you to call Le Chabot Dental at 510-276-5533 to schedule a consultation where you will be able to discuss your options for dental implant treatment in San Leandro, California.